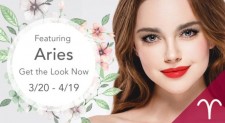 Exclusive astrological makeup looks and fashion styles bring good luck to beauty lovers in their career, love life, and beyond
New York, New York—March 24, 2016—The stars have aligned and today, Perfect Corp. announces the launch of a new series of horoscope-inspired beauty looks in YouCam Makeup and Beauty Circle. Dedicated daily horoscoper, or not, YouCam Makeup's new horoscope feature delivers the best beauty looks based on your sign. And who wouldn't want to know their lucky color of the month? A shade that might just lead to luck on the homefront or in the office. Am I right?
"There has always been a natural cross-over between the realms of beauty and astrology," said Alice H. Chang, CEO of Perfect Corp. "YouCam Makeup is delighted to offer an innovative new way for celestial enthusiasts to experience their star signs with our virtual zodiac makeup looks, and a complete collection of style focused horoscopes."
Enlisting the insights of expert Astrologer, Perfect Corp.'s new feature seamlessly integrates the world of beauty and astrology to reveal our best looks each month. With the added bonus of being able to try it on for a test run through YouCam Makeup. (Spoiler Alert: Aries, our first featured look, is shown above #gorg).\
Perfect Corp. will release a new look each month, focusing on the current zodiac sign (watch out Taurus, you're next!). The monthly horoscope looks will live on Perfect Corp.'s Beauty Circle platform, a popular interactive beauty network where astrology fans will be able to discover their best looks, get makeup, style, and beauty advice for their sign, and meet their celebrity horoscope twin. #twinning
App Availability
YouCam Makeup is available for free on the App Store and Google Play.
About Perfect Corp.
Perfect Corporation is dedicated to transforming how consumers, content creators and beauty brands interact together. Our experienced team of engineers and beauty aficionados are pushing the frontiers of technology to create the beauty platform of the future – a fluid environment where individuals express themselves, learn the latest about fashion and beauty, and enjoy instant access to the products from their favorite brands. Further information about Perfect Corp. can be found atperfectcorp.com
Press Contacts
Corporate: Anne Shih, press@perfectcorp.com, +886-2-8667-1265, ext. 2448
Japan: Ryoko Nakagawa, contact_pr_jpn@perfectcorp.com, +81-3-5875-6651
USA: Anna Dutkowsky, contact_pr@perfectcorp.com, +1 (646) 205-3573
Germany: Volker Maxisch, contact_pr_deu@perfectcorp.com, +31-43-306-0797
France: Laëtitia D'Urso, contact_pr_fr@perfectcorp.com, +33 (0)1 79 30 90 39
United Kingdom: Volker Maxisch, contact_pr_uk@perfectcorp.com, +31-43-306-0797
All companies and product names mentioned herein are for identification purposes only and are the sole property of their respective owners.
Copyright © 2016 Perfect Corp. All rights reserved.
Share: